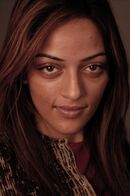 Bhavini Doshi from South London, UK is a professional actress.
Bhavini's theatre credits include Panther in Peter Pan (The King's Head Theatre) directed by Stephanie Sinclaire, Jayne Hyper-Byte in The Man Who Knows (RADA). Showcasing as Lynette in Can't Stand Up For Falling Down.
Bhavini is a graduate with a Bachelor of Arts Hons Degree, she has taken part in performance workshops with the Michael Chekhov Studio London including King Lear and The Goose Girl.
Bhavini's Film credits include Mrs Billings in Craws and Mia in The Park.
Bhavini is set to play the character role of Rujina in the sci-fi/horror production First Ark to Alpha Centauri.
See also:
Edit