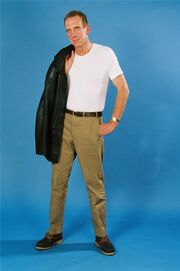 David Aston from Beverley (near Hull), East Yorkshire, is a theatre actor turned film actor.
A former police officer with a Masters Degree in Education, David has had considerable experience in giving presentations to large audiences as well as 25 years in theatre work, including musicals and straight drama. He has undertaken a screen and film actors course and wishes to further develop his acting career. He is a very active person with a great sense of humour. He loves comedy roles as well as more dramatic parts. David Aston is also a competent singer and can "fiddle" with a guitar. He's been described as a "bit of a charmer".. He enjoys writing, theatre, reading and some sports. He's happily married, with two grown children who are now, thankfully, "off his hands".
David Aston has just been signed to play the prestigious title of "Starship President" Zed Lincoln, onboard the interstellar ark in First Ark to Alpha Centauri movie.
See also:
Edit
External references
Edit