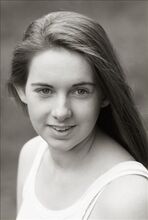 Leila Adriana Reid, fom West London is a young British actress.
She has worked mainly in film and theater and has played characters between the ages of 14 and 18. However, Leila has also played older roles such as 'Strophe' in Pheadras Love and younger roles such as leila_13 in Predators and Paedophiles for ITV. She has played a wide variety of characters from a ghost killed accidentally in a shooting accident in The visiting to a 15 year old who has grown up with an alcoholic mother in Shattered. 
Leila set to play the character role of Alissa in First Ark to Alpha Centauri, the movie.
See also:
Edit
Ad blocker interference detected!
Wikia is a free-to-use site that makes money from advertising. We have a modified experience for viewers using ad blockers

Wikia is not accessible if you've made further modifications. Remove the custom ad blocker rule(s) and the page will load as expected.