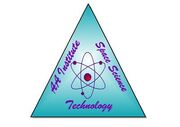 The Mission Management Committee (MMC) is a panel of about a 100 people that form a governing council onboard the Centauri Princess. They report to Zed Lincoln and perform their duties in a flat hierarchy. Prominent members of this council mentioned in the novels were Nikolaus Zakarov, Gordon Crista, Frederick Chang, Joynal Simmons and Dr Dermot Azura.
Members of the MMC are elected democratically by residents of Utopia every 25 years in each generation. As older members retire, so newer ones are appointed by rotation to take their place.
The official MMC logo (shown at right) is worn on uniform by members of the panel and also by members of the Control Room. It is interesting to note that this triangular logo was also the offical emblem of the conceptual research institute (AA Institute of Space Science & Technology) originally founded by Abdul Ahad in January 2002, which led to him eventually conceptualising the Centauri Princess interstellar ark.
The MMC logo is worn by starship president Zed Lincoln on his uniform in the emergency conference referenced on page 55 of The True Price of Immortality.
Main Articles:
Edit