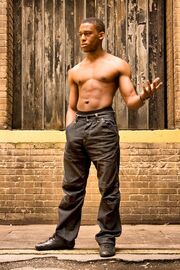 Michael Ajih from East London, UK,  is an aspiring actor.
He is fiery and unbalanced, artistic but also charismatic and impulsive. Michael is a passionate, motivated person who takes what he does real seriously. He wants to be recognized by his talent and ability as an ACTOR not as anything else, his reasons are to inspire and give hope to others. Michael says: "I only do this because I'm having fun. The day I stop having fun, I'll just walk away. I've always been and always will be an ACTOR. With the acting opportunity in First Ark to Alpha Centauri I'm being created into a STAR."
Michael will play the character role of Koolio in First Ark to Alpha Centauri - the movie.
See also:
Edit
Ad blocker interference detected!
Wikia is a free-to-use site that makes money from advertising. We have a modified experience for viewers using ad blockers

Wikia is not accessible if you've made further modifications. Remove the custom ad blocker rule(s) and the page will load as expected.