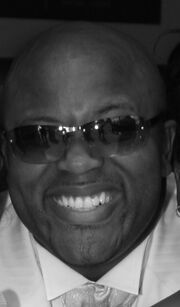 Michael Callum, from Luton, UK is an entertainer and professional actor.
Upon graduating in 2001, Michael took up acting, appearing in various TV and Film productions. Amongst them are, 'The Da Vinci Code', 'Keen Eddie', 'Closer', and 'Derailed', to name a few. Now a more experienced performer, Michael left the name 'Hitman' behind, and accepted '1Son' as his nickname. He saw it as coming full-circle, as his his parents had called him '1Son' from childhood, because he is their only son. With a personality as bright as the Sun, it seemed destiny had chosen him to receive his name. After presenting a copy of his documentary 'Verbal Intercourse' (in which he performed in front of thousands at Bristol's Essential Festival) to the area's biggest promoter Michael 'Private' Murray, he was signed on to present Luton's biggest music showcase. 'The Live Lounge' , is a constant sold-out event, with top performers from all around the UK, happy to spread the love to a young, diverse audience. This also led to him being commissioned to create a DVD package, covering the journey of a group of youngsters about to put on their very first theatre production, 'Chicks, Clicks & Cliches', which was very well received.
Now a budding Entrepreneur, Michael '1Son' Callum is showing great promise as a networker, socialite, and entertainer. The question is no longer, "Will he be a household name?, but, how soon?!
Mike Callum is proud to be playing the mystical personality, Karim Yurchenko, reaching beyond the occult and touching the darkest reaches of our known universe in A Ahad's First Ark to Alpha Centauri.
See also:
Edit