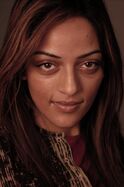 Rujina is an attractive woman of 28 years old, who lives in the Centauri Princess in the 80th generation since the Ark had left Earth.
She is the one and only sister of Alcyone and the mother of an 8 year old girl named Irene. Rujina and Alcyone are both from an ancestry linking them back to the Bangladesh region of the Indian subcontinent on Earth. Rujina is divorced and a single parent, and lives on Midsummer Crescent in Utopia not far from Shirin Choudhury, who's one of her closest friends.
For the actress signed to play this character in the movie adaptation of First Ark to Alpha Centauri, go here.
Main article
Edit