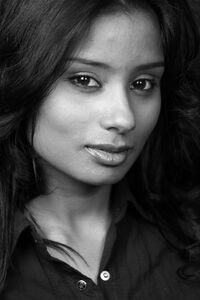 Shahela Rani, 20, from London UK, is a professional model-turned actress.
Shahela has been a finalist in numerous "Miss Beauty Queen" contests at various levels, ranging from Miss London to Miss Asia World.
She was a favourite for the lead female role in the 2009 smash hit film, Slumdog Millionaire.
Shahela is delighted to be playing the lead role of Alcyone in A. Ahad's sci-fi feature film First Ark to Alpha Centauri.
References
Edit