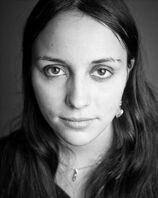 Shirin Choudhury is a 25 year old woman of Asian origins, who was born in the 80th generation since the Centauri Princess had left Earth.
She lives on Midsummer Crescent in Utopia, is married to Nizam Choudhury, and they have one child who is a little girl named Razia.
Shirin is the main chef who works in the Moonlight Tandoori restaurant, and is an expert of Asian cuisine (see Book 2 - The True Price of Immortality). In a tragic incident, during a power outtage at the height of the Wolf Angels syndrome, Razia and her friend Irene both went missing from the Ark. They are being held happy and harmless in another timeless dimension in a parallel universe on the planet of Alpha Centauri from whence the Wolf Angels are thought to have originated.
This puts Shirin on a life long quest to become reunited with her daughter. In the sequel to the first book, The True Price of Immortality, Shirin is one of only four people who opt to secretly go into suspended animation in the hope of being revived when the Centauri Princess eventually reaches New Earth at Alpha Centauri, an eye-watering 48,000 years later.
For the actress playing this role, go here.
Main article
Edit