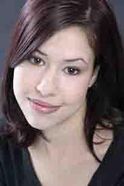 Sophie Fonteyn
from West London is a professional model turned actress.
She trained as an actress under the teachings of the Sanford Meisner technique at The Actors Temple. Sophie also trained in film and television at The London Actors Workshop, leading to work in music videos and commercials.
She has performed in plays at The Lyric Theatre and Riverside Studios and has also been cast in  a feature film by up and coming director Paul Wesoly. Sophie's starred in a number of music videos and films, both features and shorts, her most recent assignment was a barmaid in the 2009 feature film Forget me Not. She starred as Fatima in Diary of a Jihadi, and as Scarlett in Deadly Impulse.
Sophie is now playing Alcyone as she ventures on a journey that has never been taken before in the history of humankind in the film adaptation of bestselling author Abdul Ahad's sci fi novel First Ark To Alpha Centauri.
Sophie loves to dance salsa, street jazz, contemporary and free style.
See also:
Edit