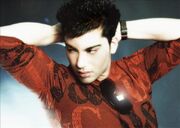 Sunny Malik
, from Nottingham, UK is an actor and student.
Acting has always been his dream from a very early age. He has been acting on stage for school productions and drama societies for many years and has starred in a number of short films. He also performed an extras role in the 2007 Hollywood blockbuster Rocky Balboa (pictures available, please email him), having worked with Sylvester Stallone. Sunny has had extensive experience acting and performing at the Nottingham Youth Theater since 2001, with leading roles in productions of West Side Story, Romeo and Juliet and The Nutcracker. Last year, as part of his University's theater group, (King's College, London) he was part of a London production of Jekyll and Hyde.
Sunny is presently assigned to play the character Sharuk in the sci-fi epic First Ark to Alpha Centauri by A. Ahad.
See also:
Edit