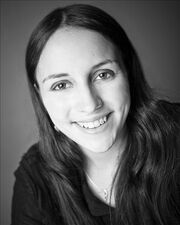 Vicki Glover, from West Yorkshire UK,  is a professional actress.
Vicki was born in Dewsbury, West Yorkshire and has been performing since the age of eleven, taking her first part in a school production of Red Riding Hood – playing a squirrel with smelly feet. Since then, times when she has not been involved in a production of some sort have been rare. Vicki has taken short courses at a number of places, including the National Youth Theatre of Great Britain, the Guildhall School of Music and Drama and the Liverpool Institute for Performing Arts. In 2001 she appeared on SMTV Live in the final of a competition for a small part in the Dreamworks animated film 'Shrek 2', which she won, and was given the role of 'Star Map Seller', which she recorded in 2004.
This year she has already has a number of interesting projects lined up. She will be playing the role of the Young Krystina Ruben in the UK tour of 'The Interview' with Hexis Productions, written and directed by Jayson Bartlett. She will also be playing the role of Emily Bronte in new play 'The Bronte Boy' with Encore Theatre Company and playing the role of Fliss in upcoming TV series 'Dilation'.
To find out more about Vicki, please visit her website, www.vickiglover.com

Vicki will be playing the part of Shirin Choudhury in A. Ahad's First Ark to Alpha Centauri movie.
References
Edit
Article in The Dewsbury Reporter November 26, 2009
See also:
Edit